ETERNAL REALITIES
mixed media - 2005:06
ER-bed, case, cupboard, chair, bath, box, door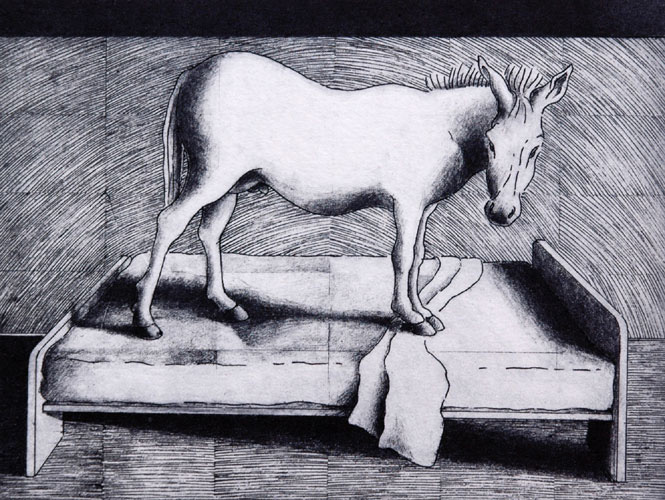 Prints
Eternal realities
bed, case, cupboard, chair, bath, box (mixed media 1300mmx1700mm), and door (mixed media 1875mmx1700mm)
ER-bed and cupboard exhibited at Anderson Rhodes Gallery, New Plymouth 2018
Artfull ︎
---
ER - PRINTS
Polymer plate etchings of the Eternal realities series exhibited at Solander Gallery, Wellington and City Art Depot Gallery, Christchurch, 2007.
City Art Depot ︎
---
Review - DOMINION POST visual arts column, Friday March 16, 2007
Nearby in Maree Horner's series Eternal Realities, donkey's are posed like male photographic models in contained areas within the home: in an opened wardrobe one moment, feet on a plush chair or poised miniature in a fireplace in another. In an ongoing series of works Horner opens out for questioning the symbolism of domestic settings and gender roles with intriguing, surreal recontextualisation of stock props. The surface of the etchings is squared as if they have been unfolded, encouraging an unpacking of meaning, while the still subjects are coolly dramatised by shadows and shading.
Mark Amery
---
Review - PRESTO Art & Culture, Christchurch, March 2007
This is no Eeyore. That cuddly animal with its wobbly seams, the melancholic foil to Winnie-the-Pooh's endearing optimism, has nothing to do with the disturbing presence of a round-bellied donkey in this series of etchings from Taranaki artist Maree Horner.
As with Horner's earlier works illusion here is the stripped of story - the traditional narrative we have come to expect from print-making medium - and focuses instead on an overt symbolism: male and female, outdoor and indoor, animate and inanimate. Yet, unlike many of Horner's earlier works with their monumental architectural imagery, scale here is more subtle - the donkey is shrunk to the size that allows it to stand in the empty fireplace or circular pool in obscene but somehow believable domination of the demure paraphernalia of the home landscape. The donkey seems to fit, its association with farmyard scenery and animal husbandry adding a weird logic to these stagey tableaux. Religion and literature are thick with references to the lowly beast of burden. The ass was a symbol of the Greek god Dionysus, god of wine, agriculture, fertility and a Bacchian sexual ecstasy. In both Jewish and Christian traditions, the messiah was often described as riding on a donkey, once a symbol of wealth (it was better than going by foot) then later indicative of commoner status as the wealthy strode ahead on horse back.
The donkey is also a symbol of unthinking animality - stubborn, irrational, loud. In fables and folktales donkeys or asses often betray their disguises by braying loudly - that dumb, distinctive and instinctive cry used so disparagingly - and incorrectly - against et al's installation concerning nuclear testing in the Pacific. In these works, however, the symbol of the donkey is undeniably sexual. Each small etching uses the idea of female receptacle - the open drawer, the welcoming armchair, the empty box - as symbols of feminine domesticity and sexual acquiescence. Within these soft interiors the brutish act of a domesticated animal pawing back the bedspread, mounting the chair or muddying the para pool is both repellent and restrained, a static performance of sexual infiltration both monstrous and quietly acceptable. Each scenario challenges the viewer; the animals brazen gaze, dumb and confrontational within the self conscious grid of the etching plate, daring the viewer to turn away in justifiable horror.
Danny Bates